Unique Masquerade Masks, Handmade in the UK
We specialise in creating Beautiful Masquerade Masks for Weddings, Prom, Sweet 16 & Quinceanera as well as Custom branded or logo masks for Events
AS SEEN IN:- MADE IN CHELSEA, ALLURE Magazine, Grace Ormonde Style, ELLE & more! View our Press Gallery for information on Mask Events, Bulk Orders & Press Loan
The masks on our website include our own unique mask creations. We can customise most of the masquerade masks by changing colours, adding decorations or mixing two designs together to create something unique. We only charge for the design & additional materials and don't charge a design fee!
FREE  Custom Masquerade Mask Design Service

If you are looking to buy bulk order masks for your special event then why not contact us to see if we can create something in your colour scheme and budget.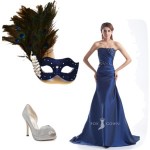 CELEBRATE PROM & WEDDING MASKED BALL SEASON
As Summer tries to make an appearance, we celebrate the season of Masquerade Weddings and Prom Masked Balls. If you looking to stand out from the crowd and have a masquerade mask that's the envy of all other guests, then we have a large range of gorgeous, unique and custom designed masquerade masks that would be perfect for your event.
If you want to match your dress colour to a masquerade mask then we can send samples F.O.C of our colours.
Visit our Testimonials Page to see all the lovely reviews our customers have sent in.