Welcome to our Leather Eye Masks page
We have created a unique range of handmade leather eye masks for both Men and Women, including everything from stylish Venetian shaped masks, Stag & Devil masks to Superhero themed masks. We also do a range of leather Phantom of the Opera masks in a half face or full face design for a classic Masked Ball genre.
View our full range of Leather Eye Masks for Men & Women here. Looking for just Women's Leather Masks ? Looking for just Men's Leather Masks ?
Want to know how we make our leather masks? Just checkout our post below:
Leather is a very fashionable and pliable material. We are able to mould it into various mask shapes and create unique designs that you will not find on other websites. All our leather masks are made by hand, from scratch, with only hand tools to assist us and are made using Vegetable Tanned Leather. This is a leather made by a traditional natural tanning process which avoids harsh chemicals so is better for wearing against the face.
The leather comes in a natural colour or a pre-dyed black.  We start making the mask (as shown in the image on the left) by drawing around our unique template design and cutting out the shape with a sharp knife. The leather mask is then dampened and the moulding process begins. At this point, details such as the shape of the nose, eyebrows and any creasing in the mask can be made whilst wet.
Sometimes we create patterned masks (such as the Gautier Phantom – right image)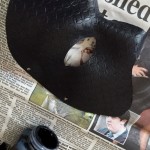 which requires a hand tool stamping into the leather. This is generally done before the moulding stage so the shape isn't distorted. Each section of the pattern is one single stamp, so the process takes time to produce a neat pattern.
Once the mask has dried, we colour the mask using leather dyes or water based leather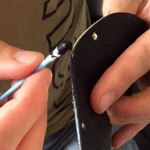 paints and then polish the edges with a special wooden tool. This creates a neat, smooth finish on the outside, which we then coat in another dye (Edge Coat) (see right)
Below, you can see the different processes of the 3 stages of our white leather phantom mask goes through ie from a flat mask, shaped, then finished in white.