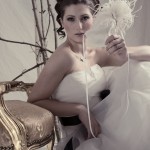 Your Wedding Day is one of the most special days of your life and here at Masque Boutique, we understand how important it is to get the detailing just right.
If you have chosen a Masquerade Themed Wedding for your special day, then we can create a truly unique Wedding mask for you – or Matching Weddings Masks for the Bride & Groom.
All our Wedding Masquerade Masks are made by hand and designed to your specification to match your dress, or themed attire. We don't charge a design fee for our services, but liase via e-mail to create your perfect Bridal Mask – working to your budget and ideas. We can also use samples of your dress fabric and integrate them onto your mask or design something that matches your accessories.
Most people, when they think of a Bridal Mask, think of a romantic white or Ivory mask with lace, pearls or flowers. In fact we have made Wedding Masks in a Gothic 'Red & Black' Halloween theme, a Mardi Gras theme of Purples and Blues and even added lights to the mask for the Bride to wear at the evening party. So anything is possible with our designs – even if we haven't already made it.
Have a look at some Wedding Mask images below for inspiration, or e-mail us with details of the mask you would like making at info@masqueboutique.co.uk.