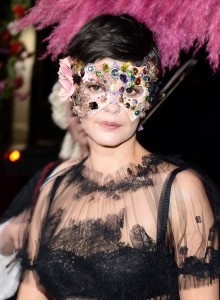 Imagine a whole flock of A-list celebrities, global fashion icons and top-class designers wearing the most fabulous bejewelled, appliquéd masks; now gather them together in 15th Century Venetian Palazzi at a party hosted by Dominic Dolce and Stefano Gabanna themselves. You have just imagined D&G's latest Alta Moda event: their Venetian Masked Ball. So you can understand why all of us here at Masque Boutique nearly burst with excitement when we heard about the event, and got dangerously close to swooning when we saw the pictures.
Held in the opulent Palazzo Pisani Moretta, a 15th century waterfront Palace, the Ball followed D&G's Alta Moda Couture show. This high end fashion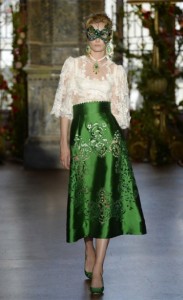 show, which launches D&G's Autumn/Winter Alta Moda collection, is in its third year, and finishes off a circuit of Haute Couture events. This year, masks were everwhere! Eye masks adorned with precious metals and gems were frequent sights both on and off the catwalk, which shows just how current they are.  A highlight of the show has to have been a sleek dress made from a white lace bodice and a green silk skirt (right) with cut-out rococo patterning; the whole outfit was set off perfectly by a sumptuous emerald butterfly masquerade mask.
At the masked ball itself, each attendee was given one of D&G's own Alta Moda masks; unusual for an event such as this, the masks were worn for the entire evening, and so were integral to the ambience of the Ball. A favourite of ours is the jewel-encrusted masquerade mask, sported by actress and model 'Audrey Tautou' (top left), whose peach flower truly complimented her satin sash and lifted the darkness of her sultry lace dress.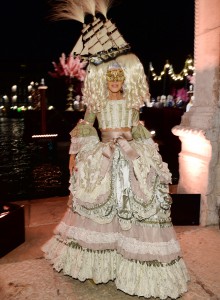 We couldn't finish without mentioning Anna Della Russo's gloriously decadent outfit (left); she looked like a 21st century Marie Antoinette in a frothy silk and lace tiered skirt and richly embroidered cropped bodice with wide engageante sleeves. Nevertheless, the most remarkable piece of her ensemble has to have been her head gear: a precisely detailed scale model of a three-masted sailing ship – which was called the 'ADR' – bobbed up and down on the buoyant waves of her curled wig. The outfit was completed by a suitably extravagant gold eye mask.
D&G's Alta Moda collection is notoriously expensive and exclusive, with a client list of just 400: one of their outfits would set you back the price of a large central London flat. However, if you want to keep up with this latest trend, head over to our Custom & Bespoke page where we can custom make a suitably fashionable and utterly unique venetian masquerade mask to accompany you to the hottest of this year's Autumn and Winter events.
Visit our Luxury One of a Kind Unique Masquerade Mask section for some ideas of what we can make. Any mask design can be covered in jewels or crystals and have feathers or flowers added by request.