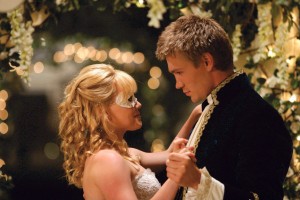 The 'Masquerade Prom' is one of the most elegant, exciting and imaginative themes you can have for your Prom. It oozes mystery, giving the mask wearer more self confidence to shine on your night by 'hiding' behind your mask. Masquerade can also work with any theme as well as a stand alone theme ie. celebrity masquerade, themed colours, circus masquerade or a full on traditional costume masquerade.
Masquerade Prom Masks
As well as the year long search to find that perfect dress, you have the ability to wow your fellow Prom goers with a masquerade prom mask that is unique to you and compliments your whole attire. If your dress is highly embellished, then you might prefer something less OTT and choose an elegant & simple prom mask, leaving the focus on your gown.
Or, you can go completely over the top and have an elaborate prom mask, decorated with an array of feathers, embellished with pearls & Swarovski Crystals.
Of course when dressing for a Masquerade, it isn't as simple as finding any old mask. It is all about matching your face to the mask – which is crucial to both shaping and contouring your face to bring the best out of your gown. The fuller Venetian mask shape, for example, like the many decorated Venetian styles at Masque Boutique, covers the eyes, cheeks and sometimes the nose for the ultimate disguise. For a woman who isn't afraid to let her personality shine through, there are masquerade prom masks that are less traditional or which offer less coverage than other models; such as the range of 'metal filigree laser cut'masks, or the simple eye mask which covers just the eye area (like the stunning Ice Blue & Crystal Mask below). (see our Mask Buying Guide for sizing)
If you are struggling to match your Prom Mask to your dress, then here are some suggestions of how to go about it:-
1) Choose a darker, lighter or mixed tones that compliment your existing dress colour.
2) Find a mask that matches the colour of your accessories or features of your dress:

3) Colour match: like this elegant white gown with our gorgeous white & swarovski crystal venetian mask
Gallery for inspiration.
For UK prom dresses, perfect for your Masquerade Prom, try these companies:-
For US Prom Dresses, try these:
http://www.promgirl.com/shop/dress_by_event/prom